About Blue Urbanism
We live on the blue planet, with three-quarters of its surface covered by oceans. Yet, we also increasingly live on the urban planet. Those two realms are profoundly disconnected. Yet, cities impact oceans in many significant ways, direct and indirect. Cities can and must begin to include oceans in their planning, what might be called blue urbanism, and a natural extension of the emphasis given to urban greening and green urbanism in many cities today.
What would it mean to live in cities where we care about and feel connected to oceans? Blue Urbanism challenges us to imagine how terrestrial urbanites can also be understood to be citizens of the sea, citizens and inhabitants of the blue world, and as such care for and steward over this most amazing of Earth's realms.
---
Blue Blog Updates
A Healthy Harbor for Baltimore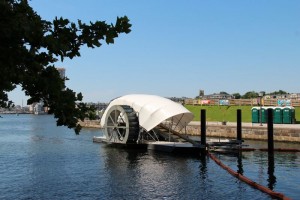 In the 1960s few would have imagined Baltimore's inner harbor as an attraction to visit. That changed with the help of an innovative 1964 mMaster pPlan, prepared by Wallace Roberts, and Todd, as well as the vision of  of developer James Rouse. Rouse  what the inner harbor of Baltimore could be, and saw its potential as a vibrant, active place and his groundbreaking  redevelopment project  Harborplace became a model for other seaport cities. Three and a half decades later, these harbor are being renewed and extended in different but equally bold ways.
Serious issues will need to be confronted looking forward: Water quality and ecological health remain poor, and while tourists flock to the harbor (more than 14 million each year), Baltimore residents have relatively little connection to the harbor or the Chesapeake Bay beyond.  Much of the inner harbor shoreline is bulkheaded, with few opportunities for physical access (or emotional connection).  
The Healthy Harbor Initiative aims to address these issues. The project is spearheaded by the (Baltimore) Waterfronts Partnership, a coalition of public and private organizations that functions similarly to a business improvement district (BID), but with a twist. It provides many of the usual services of a BID (litter control, visitor assistance, landscape management), but the Healthy Harbor Initiative is special: It focuses on protecting and restoring the harbor and finding ways to connect residents to the water. Refreshingly, its stated mission is to serve as the harbor's "chief advocate, promoter, and steward."
Key partners in the initiative include city and county departments (e.g., planning, recreation and parks) as well as the Baltimore National Aquarium, the Maryland Sciences Center, and Blue Water Baltimore, a not-for-profit organization working on behalf on water quality and habitat improvement.
The effort centers on envisioning a cleaner harbor and finding creative ways to improve water quality and habitat to make the harbor swimmable and fishable—a goal HHI aims to meet by 2020. Its State of the Healthy Harbor Report (issued annually) and a Healthy Harbor Plan, adopted in 2011  outline some of the steps already taken in service of that agenda, as well as  key actions for the future.
Oysters Gardens and Floating Wetlands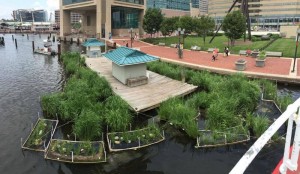 Some creative projects under way so far include habitat support for oysters, which help to cleanse the water, as well as the installation of floating wetlands. The wetlands are unique: Designed with the help of the Living Classrooms Foundation and the environmental engineering firm BioHabitats, they use recycled plastic bottles for flotation. There are now 56 separate islands, covering an area of about 2,000 square feet.
The wetlands filter water, take up excess nutrients, and provide habitat (great blue herons, river otters, and ducks have been sighted using them). An assessment report prepared in 2011 confirmed that the islands were quickly colonized by a variety of marine organisms offering further ecosystem services, including a half million (dark false) mussels per island, which provide considerable water filtering benefits.
Adam Lindquist runs the Healthy Harbor Initiative and is responsible for implementing many of these ideas. The floating wetlands have been popular: "Not only do people love the soft green vibe that they bring to an otherwise hard urban area, they also actually help to remove pollution as they grow, so the plants actually suck up the excess nutrients in the harbor," he says.
The cultivation of oysters is another compelling story and an interesting strategy for connecting Baltimoreans to their harbor. It is a collaboration between the Healthy Harbor Initiative and the Chesapeake Bay Foundation. There are now 150,000 young oysters being raised by schools and by corporate sponsors, who donate funds and time. They live in hanging cages at 10 sites around the harbor (referred to as "oyster gardens"), and are accessible from points along the harbor's promenade. When the oysters are big enough they are transferred to oyster reefs in the Chesapeake Bay.
The oyster cages must be cleaned every month, and it turns out that this is an unexpected educational tool. When volunteers pull up the cages, passersby notice and want to find out more. "All of my volunteers are ambassadors for cleaning up the harbor, because they love to talk to the public," Lindquist says. This is indeed a clever way to foster emotional connections with, and care for, the aquatic realm of this city.
Another creative idea is the Inner Harbor Water Wheel. Partly powered by water and partly by the sun, the wheel skims off garbage and debris coming into the harbor from the Jones Falls River. Already the wheel has collected significant amounts of marine trash—more than 182 tons, including more than 110,000 plastic bottles, 45,000 plastic grocery bags, and more than 4 million cigarette butts!
The wheel has itself become a celebrity. More than a million people have viewed a brief YouTube video about it, which has led to extensive comments and discussion about the problem. The wheel even tweets (with the Twitter handle @MrTrashWheel). In the latest development, and another world's first, the city has contracted to have garbage collected by the wheel sent to a local waste-to-energy plant to be burned to produce energy.
Baltimore is not alone in re-committing to its urban harbor. Harbor cities around the world have been working to make their harbors clean, swimmable environments. Copenhagen has installed several public swimming areas (advertised recently by the city's tourism website as a chance for "open air swimming right in the centre of the city"!). New York City is taking many of the same steps as Baltimore; perhaps most impressive is its goal of populating the harbor with a billion oysters, a project coordinated by the New York Harbor School (for more information see http://www.billionoysterproject.org/).
These bold and ambitious projects illustrate the direction many coastal cities will need to take in re-kindling an urban fondness for enjoying the water environments around us while cleaning up and restoring some of the nearest nature urbanites have.